Bob and Hope Black '56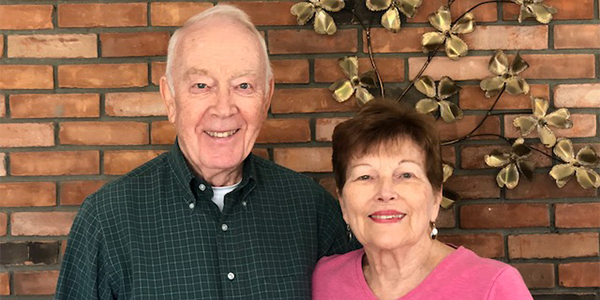 Every year, Bob and Hope Black know they will get a Valentine's Day card from The College of Wooster. It may seem like a small thing, but it means a lot to the couple, who met as students at Wooster and celebrate their 52nd wedding anniversary this year.
Every year since they graduated in 1956, Bob and Hope have done something for their alma mater in return: made a gift to The Wooster Fund. They have no intention of breaking that streak, and now, working with the College's development office, they have come up with a novel way to ensure that it continues even after they are gone.
Bob grew up in Steubenville, Ohio, and decided to apply to Wooster after participating in a retreat on campus with his Presbyterian youth group. Hope had a sister who graduated from the College and also heard good things from her high school Latin teacher, another Wooster alum. As Hope pursued a degree in psychology and Bob one in economics, their paths often crossed; but they didn't start dating until senior year.
Bob was president of Third Section ("By far the best section on campus at the time," he avows), and Hope was a loyal Peanut who loved to sing in the Wooster Chorus and other choral groups. "Things clicked," Hope says, but after graduation their paths diverged for a time. Bob joined the navy, "spent two years on a destroyer, and saw a lot of the world," while Hope took a job in Florida to be near her parents.
In 1958, when Bob's enlistment was up, they married and moved to White Plains, N.Y., where he began selling life insurance, and Hope landed a job in the personnel office at IBM. Two years later, Bob signed on with Big Blue too. And while the joke used to be that IBM stood for "I've Been Moved," he spent the next 40 years working for the company without leaving the New York metro area, including stints running branch offices in New York City, managing the education center, and working in a development laboratory in Westchester.
Together, Hope and Bob raised four daughters (one of whom went to Wooster), represented Wooster at college fairs, helped raise funds for the College, and never missed a five-year class reunion. Bob also served on the Alumni Board, and in 2006 he and Hope received the John D. McKee Volunteer Award.
While planning for their 50th class reunion, the Blacks learned about different ways to give and decided to establish a charitable gift annuity, which allows the donor to transfer cash or securities to the College in exchange for a fixed-dollar return guaranteed annually for the donor's life and that of a survivor beneficiary, if desired. The donor receives a charitable income-tax deduction for a portion of the gift in the year the annuity is acquired. Depending on how the annuity is funded, a portion of the income that donors receive may be tax-free.
The only question was what to do with the residual in the annuity account after they were gone. They considered endowing a scholarship but then hit on the idea of endowing a fund to continue in perpetuity their unbroken string of giving to The Wooster Fund.
"Sometimes it was a struggle to come up with a few bucks" in those first years out of college, Bob admits, "but I can remember John D. McKee meeting with our senior class and explaining that none of us had paid the full cost of attending Wooster; the generosity of others had made the difference. He urged us to continue that tradition."
And so they have, because they understand the importance of a source of funds with the flexibility to be used each year wherever the need is greatest. The Blacks have subsequently signed an Estate Note, too, the proceeds of which will also go into their endowed fund.
"Wooster was a great experience," Hope says. "The breadth of a liberal arts education and the chance to delve into lots of areas besides your major, whether art or drama or music, is a wonderful opportunity."
"What we've done is not a lot of money," Bob added, "but it doesn't have to be a lot to have a long-lasting influence."